The Number Of Americans Going Gluten-Free Has Tripled Since 2009
Do you suffer from bloating, digestive issues, insomnia, joint pain or other issues? If so, eating gluten/dairy free without processed ingredients may help you feel lighter and healthier.
Are you tired of settling for eating gluten free products that don't taste great and are full of unhealthy ingredients? I was and so I created bread, cookies, and other baked goods that taste so good and the ingredients are healthy so you fell good too! No big blood sugar spikes either with the lower glycemic sweeteners I use.
SHOP NOW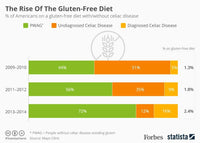 Product Reviews
Karen's products are delicious . I'm a foodie also and have tried many of her baked goods. Although I am not gluten free it doesn't matter , they taste better than other baked goods I've tried. So you get the taste and health benefits combined. You can't go wrong!

Ann Bullen, Ohio
Love Karen's! Tasty and delicious, more than other GF brands. And hand-made!

Daniel Bonner, Sedona
The cause of my inflammation was diagnosed through tests. My stomach settled down as I learned all about the gluten free and dairy free life. I have much more energy than I've had in years, I feel very good and I've lost 15 pounds just eating healthy clean food. One thing I know for sure; I could never have done this without Karen's products!

Sally Braun, Sedona
Good stuff - even though I'm not gluten free.

John Southwell, Sedona